6 Main Street,
Mitchell's Bay, Ontario
N0P 1L0
Phone / Fax:: 519-351-6198

OPEN

Mon - Sat: 7:00 am - 8:00 pm
 Sunday:   7:00 am - 6:00 pm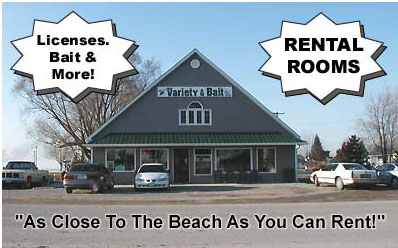 Rooms For Rent
We're As Close To The Beach As You Can Get! Plus Complete Bait and Tackle Shop
Located in 
Mitchell's Bay
Your one stop shopping for all your camping supplies, boating needs and groceries.
Variety & Coffee / Snack Bar
Fresh Bait 
Large Selection of Fishing Tackle & Accessories
Rods and Reels
Fishing and Hunting Licenses Available
NOW OPEN!

Licensed LCBO &
Beer Store Outlet

(take-out only)

Coffee & Snack Bar

Snacks




Soups & Sandwiches




Soft & Hard Ice Cream

Tackle Shop

Live Bait
Minnows & Worms

Tackle
Rods & Reels
Get-A-Way Rooms For Rent

• Sleeps up to 5 Persons

• Equipped with full size Fridge, microwave, gas BBQ & Colour TV

• Comfortable, spacious and room for up to 5 adults - a perfect place to relax and trade stories after a day on the lake!

  

• Spacious & Comfortable

• Large, elevated Deck overlooking the beach!

 Please Call  
519-351-6198
to arrange your Reservation Today!